#1 Freelancer on PeoplePerHour.com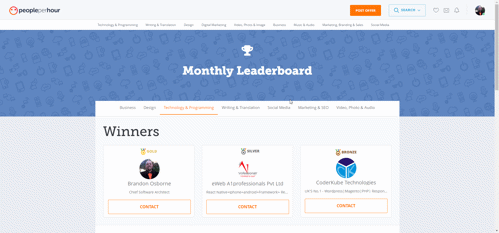 Today, we are pleased to announce that Brandon Osborne single-handedly beat out all of the competition on the freelancing website PeoplePerHour.com! Brandon managed to come in first -- all by himself -- against all other agencies and programmers in the category of Technology and Programming for the month of October! This is just the level of service and expertise that you can come to rely on from the folks at coderPro.net! Even our most senior managers can still get right in there and code with the best!
Be sure to congratulate B if you talk to him. Kudos! Stay tuned to our website or subscribe to our newsletter or RSS feed (see above) to keep getting more updates from us!